Malana Village is a different world in itself. It is like a sacred book of fabled folklore. It is a sanctimonious land for the people who reside in it. It is the World's oldest democracy. It lives by the rules set thousands of years ago. Travelers are welcome here but never allowed to be a part of it in its entirety. 
Lurking in the midst of the north-east Kullu range in the Parvati Valley of Himachal Pradesh, is the remote Malana village – a paradise for travelers.  Many people have heard of Malana village but its best kept secrets are what make it ever so charming and attractive.
I had only heard about this ancient Malana village previously but nothing came as close as truly experiencing its beauty. Come live its pages with me.
If you wish to lose yourself in a place far away from the hustle bustle of city life, there is nothing more tempting than this remote but mesmerizing haven that offers a treat to your eyes and soul.
Malana Village: An Overview
| | |
| --- | --- |
| Location | North India |
| State | Himachal Pradesh |
| Accessibility | Throughout the year |
| Best time to visit | May to October |
| Nearby places to visit | Kasol, Kheerganga, Tosh |
| How to reach | Cab/bus and then foot |
| Food | Local cafes and budget eateries |
| Cost for a day's trip | Moderate |
How to Reach Malana Village ?
Malana village lies at a distance of about 21.5 km from Kasol. A bumpy cab ride will see you swifting through rickety roads for about an hour until you finally reach the starting point from where you'll have to continue your journey by foot.
There are not many buses that will take you there due to the rough terrain. However, you can hire a cab from Kasol or from Jari (which is around 21.9 km away from Kasol) for 1200 INR.
It is safer and a much easier ride. About 1.5 km from Jari is the Malana Power House. One can use this as a landmark while traveling up to the village.
Setting up Base at Kasol
When someone thinks of visiting the Parvati Valley, the first thing that pops to mind is Kasol. Such is the destination's popularity.
With a massive surge in the number of backpackers flocking into Himachal Pradesh, Kasol has emerged as a serene getaway spot.
Himachal as a location is known for providing well-awaited, mountainous escapades to travelers. Kasol is a nestled spot amidst the Kullu district of the dev bhoomi (land of deities) Himachal. 
Kasol is situated in Parvati Valley somewhere between Bhuntar and Manikaran. It is located at a distance of 31 km from Bhuntar and 5 km from Manikaran.
There are loads of good places to eat at Kasol. Also, it is the starting point to your journey through the Himalayas, as many would say. 
Budget Accommodation Near Malana Village
Finding budget places to stay near Malana Village can be difficult in case you don't have prior bookings. So it is recommended that you make arrangements in advance. This will ensure ample rest for a comfortable trek till Malana village. 
Experience the Rural Lifestyle at Malana Village
Now if you must desire to feel the rural lifestyle of the mountains and are looking for some peace and quiet, Malana village is the place to go.
In the recent years, Kasol has witnessed a mad rush of tourists and hippies. But oh Malana village– the beauty that has still been untouched by the modern man, remains to be one of the oldest democracies of the world even now.
The smart thing to do if you wish to visit this quaint village would be to set up base at Kasol. Then do a day trip to Malana village.
It is a reasonable option to stay at Kasol since certain new rules now have forbidden travelers to live inside the Malana village. This has been done for keeping their traditions intact and not allowing outside intrusion.
The Trek Up and Down Malana Village
Like I mentioned earlier, it is impossible to reach Malana village in a vehicle. Only your feet will take you there.
Once the cab drops you in front of the Malana village Gate (about 2-3 km before the Malana Dam), you're left on your own. It'll take you about an hour to walk a rough climb before reaching Malana village.
When you reach the gate, you'll be welcomed by a big green arched sign that says "Way to Malana Village." That is the only thing you will see. Reason being, there is a paved pathway running straight down the hill.
This leads to a mini bridge hanging over the lush trail of the river. The bridge connects you to the hill on the other side which you will have to climb up in order to reach the Malana Village.
Always wear a comfortable pair of shoes on Malana village trek.
Don't be afraid of climbing up hill to Malana Village. Mesmerize yourself amidst the distant Himalayas.
Complexity of the Malana Village Trek
Let's get this straight now – the trek to Malana village isn't going to be easy, especially for a beginner.
It's going to take you about 120 minutes depending on your strength and the number of pit stops you make. But what's good to know is that you won't be alone in your climb up.
The people of Malana village are constantly moving up and down the hill, going about their daily deeds and doing so in great effortless fashion.
Their strong legs have endured years of practice living the life of a Pahaadi as some may say.
The only way to get out of the Malana village is to make the climb up. So it isn't surprising to see them swift past you as you struggle to hold your legs together.
They also whisper words of encouragement as they pass by telling you that you're not too far away from your destination and that you have 'just a little more to go.'
I found this quite inspiring and much in tune to their pleasant and inviting culture. The people there are sweet and they are proud of their village.
It's an entirely different world out there.
Interesting Trivia for First Time Visitors to Malana Village
 A place so different from all the other surrounding regions is bound to have interesting aspects about it. As a traveler visiting Malana village, you have got to understand and respect the different facets.
CLICK HERE TO FIND OUT TERRIFYING RULES OF MALANA
The Devil's plant of Malana Village

Found abundantly in the Himalayan region and very well on your climb up to the Malana village is the Girardinia diversifolia.

This is commonly called the Himalayan nettle or the Nilgiri nettle. As a visitor, you should be aware of this devil plant.

It will sting you at the slightest touch and will leave you quivering with itchy pain. I say so with such severity because it happened to me.

I brushed across this plant on my climb up and I'm telling you, the biting pain is going to make you feel like you're about to pass out.

So, if you don't want parts of your body swelling up, you may as well lay your curiosity to rest and abstain from touching the wild plants you see around Malana village.

Don't Touch Anything in Malana
If you thought untouchability was a thing of the past – think again. The people of Malana village consider all outsiders to be impure to their kind and they restrain from touching anyone who is not a Malani.

If visitors don't stick to prescribed paths and touch anything that has otherwise been termed off-limits, they will have to pay a heavy fee which will cover a goat who will be used as a sacrifice to purify that which has been made impure.

Malanis don't accept food or water from outsiders. But if they do, then they have to undergo a strict cleansing ritual before they enter their house.

Abstain from Consuming Local Drugs

Under the Narcotic Drugs and Psychotropic Substances Act, it is illegal for anyone to produce, possess, sell, purchase, transport, store, or consume any narcotic drug or substance of psychotropic nature.

The NDPS Bill was introduced in the Lok Sabha on 23rd August 1985 and passed by both the Houses of the Parliament. The act holds true throughout India and applies to each and every one of its citizens.

It is not of any hidden knowledge that Malana village is well known for its Hash. It's locally produced and is widely grown in the mountainous regions of the Himalayas.

Malana village, in fact, gathers its major source of revenue from the selling of its Hash to drug markets around the world.

It is a popular strain of cannabis and many people from around the world engage in its consumption.

However, it is not a wise idea to treat yourself to the cream of the crop as it happens to be officially illegal throughout India.

So, there isn't much to discuss here and because it is pretty self-explanatory to understand what might happen if you do get caught with an illegal substance.
The People of Malana Village and Their Customs
Unaffected by whatever that happens outside of the Malana village, the people here lead a quiet, simple, and pleasant lifestyle. It's an age-old republic, isolated from the rest of the world.
Situated at a height of 9,938 feet above sea level, this remote village stands untouched by modern civilization. In fact the inhabitants don't wish to change their usual way of living.
The Malanis are a proud lot and you can see that they hold their culture and their customs close to the heart and consider it with high regard. Despite being a part of the Kullu valley, Malanis have a distinct appearance and dialect.
The residents of Malana village claim to be the descendants of troops from the time of Alexander the Great. The legend goes to say that after the great warrior left the country, some of his soldiers settled down in Malana village and called it their own.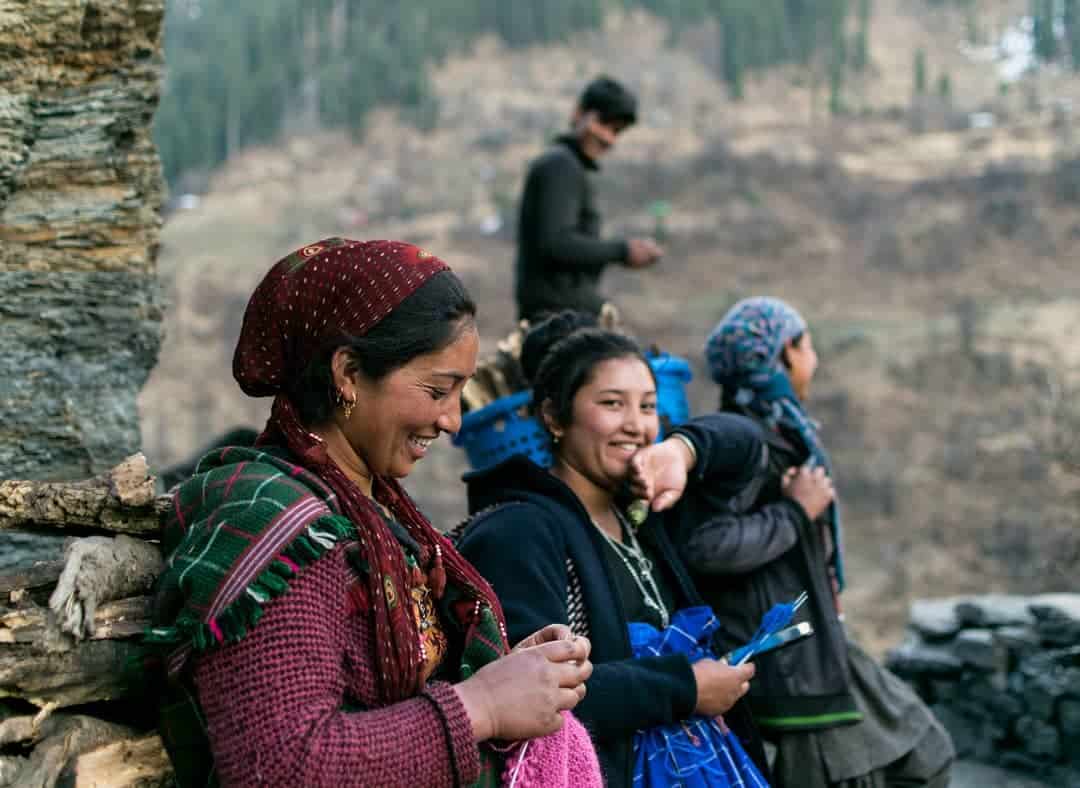 Lovely women of Malana. Photography by Vineet Chopdekar
8 Malana Village Rules Every Traveler Should Know
Each visitor planning a trip to this part of the world should be fully aware of the Malana village rules. Some of them are strange and others terrifying.
Do not touch any person or thing while in Malana village
Video making is banned in Malana village. Click pictures only
It is forbidden for travelers to learn Kanashi – the local language of Malana village
Never fix nails on any tree in Malana village
Avoid burning wood in any forest in Malana village
Hunting animals in this region is totally forbidden
Entry of cops is totally banned in Malana village
No traveler is allowed to marry any man or woman from Malana village
A Brief Encounter with a Man from Malana Village
During my brief time at the Malana village, I came across Rajesh . He was a man of 23 years who had lived all his life in Malana village. Manali was the furthest place he'd ever been to. 
He loves his people, his village, and most of all, his God all-mighty – Jamlu Rishi. The deity, who once inhibited the Malana village and laid the foundation for democracy that is followed to this day.
Rajesh was pretty clear about what he wanted from life. He knew he lead a simple life but somehow, it was a much richer life.
He was a talkative lad who loved his village and pretty clearly wanted me to love it just the same. He said Malana was one big happy family and that whatever they did was keeping their brethren in mind.
One could see the love he had for his culture and his people in his eyes and for the two hours I spent chatting with him, I swear I felt the same.
Rajesh spoke with his head held high, telling me these 23 years have been his happiest. He woke up every day with a smile on his face and a lot of enthusiasm to lead another long day in service of himself and his God. He was outspoken yet kind.
Legend of the Jamlu Rishi
The very functioning of Malana village rests on the local deity – Jamlu Rishi. He controls Malana village through a council. The village council consists of eleven members, all of whom act on part of their powerful deity in governing the village. 
Jamlu's decisions are made clear through a spokesperson called 'Gur.' It is believed that he makes himself heard either by entering the body of the spokesperson or by appearing in his dreams.
Jamlu's decision is final and it cannot be changed. All disputes within the village are handled by the council alone and no outsider is required to lend a hand on matters concerning the village. Malana village , after all, is the oldest democracy of the world.
Malana Cream – Officially Banned in India
Finally getting to the one thing that makes Malana village the most sought-out for – its charas. The black gold also called Malana Cream is the Hash every traveler comes sniffing for in this place.
Malana village draws its major source of revenue from the hashish it sells and its truly a stoner's paradise. The hash is a strain of Cannabis with high oil content and an insanely rich aroma.
When you enter Malana village, you are welcomed by the familiar scent of the burning of this almost sacred hashish. It is a pleasant greeting and you'll be quite surprised to see the locals treating themselves to chillums of hash.
They're lost in a haze and enjoying themselves all too much. If there is anyone who knows how to make high quality cannabis, it is the people of Malana village.
Imprisonment Up To Ten Years
Anyone going to the mountains is expected to return with some cream as the most sought-after souvenir next to chocolates but do not indulge as there is an imprisonment up to ten years in jail.
This is also one of the main reasons why the village has now forbidden travelers to live inside. Many hippies came flocking into Malana and in many ways disrupted the Malanis way of being.
After having turned Kasol into a hippie town with trippy trance and psychedelia oozing out of its chambers, the same was starting to happen in Malana. Malana being the only village to have its own set of customs and rituals, found this to be sort of sacrilegious.
Their deity Jamlu Rishi banned Malana village from allowing travelers to rent out their property saying those who do violate this basic rule would face his wrath in the form of a curse.
When I went to Malana village, I was oblivious to this rule. It may help to know that though you can't stay inside the village, there are a couple of hotels near the Malana Dam which is only a short distance away from the Malana gate.
If you wish to stay longer in the village or return the next day, you can choose to stay at one of these lodgings. They offer a great view of the valley and an open sky for stargazing in the night.
The likes of Malana cream draws its popularity as one of the best in the world and also fetches a considerably high amount in foreign markets especially Amsterdam – the drug capital or so I'd like to believe. 
It is no secret that Malana village is known for its hash. However, the substance is totally banned in India. So avoid consuming it or even transporting it under any circumstance.
The Untold Story of Malana Village
Malana village is ever so famous for its Hash but there is a lot more to it than just that. Malana is much more than it seems for it is a wonder in itself.
Self respecting Folks

The people of Malana hold themselves in high regard. 

When visitors enter, they are expected to follow certain rules and guided pathways.

They aren't allowed to touch people or walls of buildings. If anyone fails to comply with this, they will have to pay a heavy fine.

No Cops Allowed Inside Malana Village

Police is not allowed inside Malana Village. All the disputes of the village are handled within.

Tales of Missing Travelers

There were numerous rumors about Israeli travelers going missing in the valley.

People who never turned up and were wiped off the face of this earth forever.

Some bodies were claimed to have washed up on the banks of the river and some – well never to be seen again.

It created a whole lot of ruckus and for a while there was the slightest contemplation of visiting this sacred village and its people who apparently had a lot to do with the missing travelers.

Forbidden Language

Kanashi is the local language of the residents of Malana Village and they are pretty damn conservative about it.

Nobody apart from the Malanis can speak in this dialect. Believed to have a mixture of Tibetan and Sanskrit origins, this is a sacred language.

Malanis avoid speaking in with outsiders in order to protect its sanctity.

Kanashi is quite different from the other dialects you find in and around Himachal Pradesh.

On Marriage

The men here are allowed to have more than one wife. Divorce is common and though the men do decide to split from their wife, they still have to financially support them.

Also, it is a sort of crime for a Malani to marry an outsider.

If they do so, then they will never be allowed to set foot into the village again.
Malana is truly wonderful in itself. A class apart, this place can mesmerize you and also terrify you. Malana village is prized as an ancient civilization. It has been the same since the time of its inception.
Now certain traces of modernization can be found in the village. When you reflect upon it, it gives you the impression of yet another mighty village falling prey to the evils of growth in the name of progression as it slowly starts to lose its essence.
Some may call this remote and primitive land a paradise, while some may say it has an eerie appeal to it. But the real Malana is the one you will see when you get there.
There is nothing quite like it. I feel extremely grateful for having had the privilege to document my time up in Malana  village. Nothing will ever give you the authentic feel of having experienced a village so true in its tradition, social customs, and faith, than with your own eyes.
Explore the Lesser Known Places in Himachal
If you plan to visit magnificent yet rare places in North India, Himachal should be on your bucket list. The 2 destinations below will leave you in awe of nature. Check out both the links below –
Happy wayfaring 🙂
ABOUT THE AUTHOR
Sukanya Menon
f
eels that she is just a tiny human in a big world who loves zoning out and contemplating this life, the universe, and everything. Apart from the time she spends outside, Sukanya prefers losing herself to the pages of the many books she reads. If you don't find her do that, she's probably doodling or listening to indie bands. Oh and she also writes well.
https://budgetwayfarers.com/wp-content/uploads/2018/03/Malana-Village-min.png
315
560
Budget Wayfarers
https://www.budgetwayfarers.com/wp-content/uploads/2018/04/1200X800.png
Budget Wayfarers
2018-03-26 10:00:59
2018-04-23 13:00:02
Untold Story of Himachal's Malana Village: World's Oldest Democracy