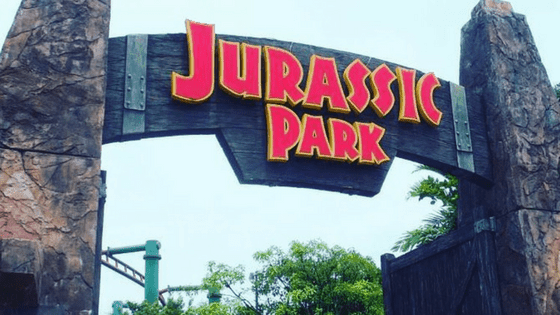 Universal Studios Singapore is the largest theme park in South East Asia. It is only 6 years old but boasts a range of delights for adults and children, hedonists and stoics alike. Universal Studios Singapore is a place to go and be joyful, and preferably (or inevitably) child-like. A place to wonder at recreations of the virtual worlds we have come to love and fantasize about, from classics like Jurassic Park and Sesame Street, to the more recent universes of Transformers and Madagascar. The streets that connect these worlds too, are largely filled with colour and life. At every turn of every corner is an event you'd want to join in on, or just stop and watch, irrespective of the time of day. Irrespective too, of your critical opinion of (probably) fully grown adults, dressed as Minions or Shrek or Pinocchio, meeting and greeting delighted visitors.
Universal Studios Singapore: An Overview
| | |
| --- | --- |
| Location | Sentosa Island, Singapore |
| Mode of Travel | Monorail or Cable Car  from Harbourfront MRT station |
| Weather | Humid and warm |
| Tickets to enter Universal Studios | Available at the entrance at $75. Promotions available online |
| Average duration of visit | Half to one day |
| Nearby Tourist Attraction | Sea Aquarium, Sentosa Island. |
A Sneak Peak into Hollywood inside Universal Studios Singapore
Beyond the iconic globe of Universal Studios , the entrance to the Theme Park opens into 'Hollywood', a wide bustling street lined with stores and attractions to welcome visitors into the atmosphere. Explorable in any order (Do remember to collect a map near the entrance), the larger divisions inside the Park include: 
Madagascar
Far Far Away
The Lost World
Ancient Egypt
Sci-Fi City
New York
Five Takeaways from Universal Studios Singapore
USS Takeaway 1
Madagascar: Crate Adventure

The Crate Adventure at Universal Studios Singapore is a fun (and quite funny) river-ride, that recreates the journeys of the four main characters from the Madagascar. Stories of Alex, Marty, Gloria and Melman, along with various other animals, are depicted on the banks of the river inside a tunnel through the hull of their large ship. Complete with dialogue and action, the boat ride into and through Madagascar is quite an experience, even for those previously unfamiliar with the characters.

For

All age groups

Duration

10 minutes

Location on Map

Madagascar
USS Takeaway 2
Revenge of The Mummy: The Ride

Possibly the most action-packed ride in Universal Studios Singapore, The Revenge of the Mummy is best experienced without a detailed introduction. Located in 'Ancient Egypt', the walk up to the ride is beset with structures and figures representative of the culture, as depicted in most stories of the era. With an absorbing narrative and sharp and unpredictable twists, turns and drops, the Revenge of The Mummy is a memorable adrenaline rush to taste.

For

Teens and Adults

Duration

6-7 minutes

Location on Map

Ancient Egypt
USS Takeaway 3
Lights. Camera. Action.

Lights, Camera, Action is a brief show in 'New York', that could be described as an insight into the wonder of film-making. Narrated by

Steven Spielberg 

, the show begins with a projection of the master movie-maker talking about special effects in iconic scenes in various beloved films, and the intricacies of the work that goes into creating them. The audience is then guided on to a live sound stage, to experience a live scene set in a cabin, with a dreadful storm brewing just beyond. Watching incredibly real recreations of strong winds, thunder, fire and chaos inside just under 5 minutes, in a gripping scene unravel a few meters in front of you, is a joy for movie-lovers in any degree.

For

Universal

Duration

About 10 minutes

Location on Map

New York
USS Takeaway 4
Jurassic Park Rapids Adventure

The Rapids Adventure in Jurassic Park  is the most sought after ride in The Lost World, or perhaps all of Universal Studios Singapore. The long wait in a maze-like queue is made endurable, however, by Dinosaur trivia on the walls in the passages, and excited visitors gearing up with large plastic covers to keep their clothes from expected splashes of water through the ride. Delightfully paced and narrated, the ride is equal amounts eerie and thrilling, through the river on a circular raft, as various creatures call for your attention from the greens. The bumpy ride, with its turns and surprises and various narrative shifts, builds gradually up to a supposed security-breach at a Hydro Power Plant inside the Park. Made real and frantic with alarms and flashes in complete darkness, the Rapids Adventure ends with a plunge into daylight, to narrowly escape the fearsome carnivores at large.

For

Anybody without a particular phobia of darkness or dinosaurs

Duration

Less than 10 minutes

Location on Map

The Lost World
USS Takeaway 5
Walking through Sting Alley

Not many streets are quite as charming as those in the relatively quiet part of Universal Studios Singapore called the Sting Alley. Passing through timeless red-brick buildings of Arcades or

Groceries

or Freight Terminals, the Alley is reminiscent of a charming past you need not even have known. The little shops with quirky old-fashioned names, doors and windows, and metal staircases to tiny balconies make for great photographs, if not to just walk by and cherish.

For

Universal

Duration

However long you please

Location on Map

New York
Besides these, the Theme Park contains many more attractions and events that could perhaps be more inviting to some visitors. To experience them all in one visit would be quite a feat. However, with adequate planning and dreaming, Universal Studios Singapore, offers enough adventure and fantasy to take a day to experience and much longer to forget.
Happy Wayfaring 🙂
ABOUT THE AUTHOR
ABOUT THE AUTHOR
Srivatsav is a writer, traveler, and music enthusiast (in no particular order). Formally educated to be an Engineer, he'd always had a keen passion for the more creative pursuits of writing, music and photography. He forms one-sixth of an experimental-rock band, who write and perform their music at various venues and music festivals in, and around Bangalore.  Srivatsav finds endless pleasure in travelling to, and exploring new places and deeply admires the life and words of one of the bravest of explorers, Christopher McCandless: "The joy of life comes from our encounters with new experiences."  
Besides travel, he seeks these new experiences in the songs of indie singer-songwriters, comedy podcasts, stories in web magazines & books, films in incomprehensible European languages, and occasionally, in baked cheesecakes. He also authors a personal blog entitled Toulside.
THIS POST ENTITLED ' EXPERIENCE THE BEST OF FIVE VIRTUAL WORLDS FROM HOLLYWOOD AT UNIVERSAL STUDIOS SINGAPORE'  IS AN EXCLUSIVE PROPERTY OF BUDGET WAYFARERS. ANY INDIVIDUAL OR ASSOCIATION INDULGING IN PLAGIARISM WILL BE DEALT WITH STRICTLY. IF YOU WANT TO USE INFORMATION FROM THE ARTICLE ABOVE, KINDLY QUOTE THE SOURCE.
https://budgetwayfarers.com/wp-content/uploads/2017/11/Universal-Studios-Singapore-min.png
315
560
Budget Wayfarers
https://www.budgetwayfarers.com/wp-content/uploads/2018/04/1200X800.png
Budget Wayfarers
2018-01-10 10:00:04
2018-04-23 12:27:36
Best of 5 Virtual Worlds from Hollywood at Universal Studios, Singapore